Pines Party is the jewel of New York's queer nightlife calendar, bringing thousands of gay men to the shores of Fire Island Pines. A charitable event that's the pinnacle of every season, Pines Party raises money for Stonewall Community Foundation and local charities impacting the LGBTQ+ communities on Fire Island and in New York City.
But how did it come to be? The history of Pines Party can be traced back to the Morning Party, a fundraiser that debuted in 1983 for Gay Men's Health Crisis (GMHC) — New York's newest charity at the time, trying to combat an illness killing thousands of gay men in a matter of months. The Morning Party's inspiration goes back even further to Beach '79, another famous community fundraising event.
The Morning Party was hosted by Billy Crystal and John Travolta from 1982-1985, and raised over $2 million for GMHC. In 1985, Travolta returned as host following Crystal's departure; this time around they raised over $5 million!

The Pines Party is a fabulous event that is attended every year by thousands of gay men and women from around the world. It is a glorious celebration, perfect for making new friends. When you buy tickets, you are supporting charity work. When you give money to charities like Stonewall Community Foundation, an LGBT organization in NYC, you have the satisfaction of knowing that your money is being put to good use.
The Pines Party is an annual fundraiser whose proceeds are donated to charities such as the Stonewall Community Foundation. Last year's event raised $500,000!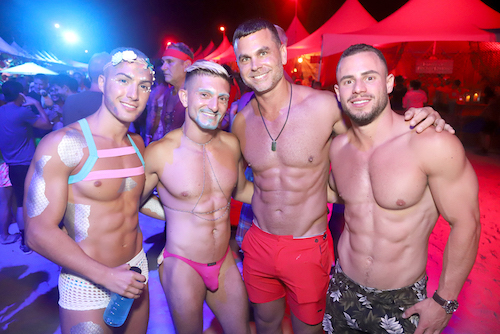 The Pines Party aims to bring together industry leaders to raise funds that directly benefit causes for gay rights. It's a great opportunity to celebrate and have a good time!